Dietz-McLean Optical was founded in 1938 by Raymond "Mac" McLean and E.A. Dietz, and it remains a family business to this day. From that day forward, we've always operated under the mindset that everyone else's premium is simply our standard.
Now owned by Raymond's grandsons, Drake and Cliff McLean, DM Optical still provides expertly crafted frames with top-notch service. We believe each customer's glasses should be as unique as they are, and we strive to provide customized eyewear solutions to fit their specific needs.
Over 100 years of optical expertise!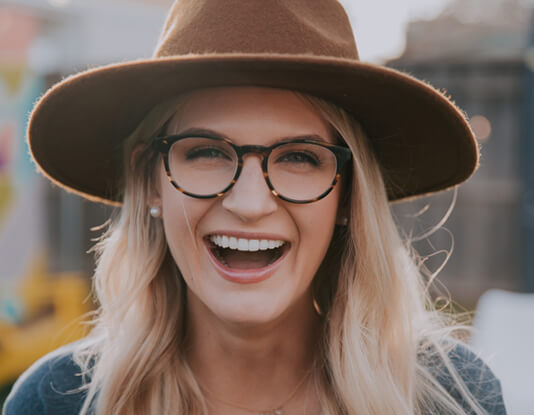 We are glasses people, and we have a passion for talking about eyewear and the extensive selection of frames we have here at Dietz-McLean Optical. Tell us about you and your lifestyle so we can curate glasses that match you: we love making a new eyewear fanatic out of a customer!
As independent opticians and your local eyewear experts, we've put together the most expansive variety of frames around — including brands you know and love like COACH®, Nike, Ray-Ban®, and Kate Spade New York® — and brought them home to you in the San Antonio area.
Working as independent opticians gives us the freedom to provide unique resources for our customers. As the eyewear industry as a whole moves away from craftsmen and towards more mass-produced products, we remain steadfast in offering customized eyeglasses and experiences.
Custom Lens Lab
Our Bitters Road office has an on-site lens laboratory, so we can personally modify your lenses and shorten the time you need to wait for them. Even if your glasses were made or purchased somewhere else, we offer Spec Checks that ensure your glasses fit properly and are adjusted precisely to your face.
Generations of Optical Experience
As family-owned opticians, we've seen clients and custom eyewear of all kinds over the years, and we're ready to use that knowledge to help you find fantastic eyeglasses. We offer an extensive warranty on our eyewear, including free repairs and adjustments for life, because we don't just want you to see well in your glasses — we want you to love how you're seeing the world.
Convenient Referrals
If you need an eye doctor you can trust, we are happy to connect you with the region's most trusted optometrists! We have an extensive referral network to link you with expert doctors who can ensure your eye health and give you a precise vision prescription to use in our shops.
Concierge Services
We're proud to offer our unique concierge services to customers upon request. We bring the very best of our optical shop right to you, including adjustments, repairs, and showcases of our latest eyewear collections. Contact us to learn more about this specialized offering.
No matter what type of insurance you have — or if you don't have insurance at all — we think you deserve to love your eyeglasses, which is why our Fair Value Plan is available to everyone! The Fair Value Plan and our warranties make it easy to get the right fantastic glasses from our expansive independent selection of eyewear.
Save 25% On a Pair of Sunglasses: Join Our Mailing List!
In 2018, I took my 90 years old father to a routine eye check up. The Doctor there found a problem with him that required urgent surgery in both eyes to don't go blind. Thanks to her my dad's vision is perfect for his age. Great service! 🌹
Robert McKinney
2021-03-17
Excellent service, very friendly and very service oriented!!
Nagendra Kumar
2021-01-25
Dietz-McLean Optical in San Antonio on Basse Rd... The best Optical experience I ever had. I am from California, visiting my daughter in San Antonio, and have been wearing rimless glasses for a while. No one ever did my rimless round glasses the way I wanted until I met Linda at Dietz-McLean opticals. To me, precise and accurate measurements of my round rimless glasses were of utmost importance and Linda was sharp as a whip who understood my need for precision, accuracy and elegance .She got my rimless glasses done....on time and to the exact measurements on the glasses. .I was so impressed with the quality of their work, I got 3 pairs of rimless glasses done. Linda is an asset to this company to uphold the values of Customer service, profssional atttitude and respect for the customers in listening to their needs , ontime delivery of glasses of exceptional quality and elegance. I would highly recommend Dietz-McLean Opticals for quality glasses - rim or rimless. -Mr Kumar .
I was looking for a particular pair of glasses with no luck. I found this place via Google. I spoke with Linda and she was able to find the glasses for me! Great customer service! I will only buy glasses from here going forward! Thank you, Linda!
Great company going back to my grandfather who was one of the first ophthalmologists in SA (actually the 2nd and they told him he wouldn't make it since there already was 1!). I go to Dietz-McLean for all my glasses needs. Thanks!
The best optical shop bar none. Dietz-McLean goes the extra mile in customer service and producing superb quality eyewear. Linda never gave up on me and after a new prescription my glasses were perfect. I have been a loyal customer for two decades. My prescription is difficult and this is the only optical shop that can fit me.
I've been wearing glasses for close to twenty years and have not had an easier shopping experience for new glasses in that time. Elke was very knowledgeable about my options and I was quickly able to pick a new frame that looks great. Thank you for the great service!
Found this company from my friend Rodney who works here. Great guy and always professional!
GREG DEATHERAGE
2020-02-13
Great Opticians with a great selection and friendly staff!
Uncompromisingly Independent, Conveniently Close!